Candy has pointed out that Catholics are not immune to getting caught up in racial or political prejudice, and have cooperated in genocide. This is not something I need to deny. It is sad, but true. However, you cannot say that this is the case with all Catholics, or that Catholicism as an institution encourages this, at least in modern times. I thought it worthwhile to profile a few Catholics who courageously stood up against regimes, and tried to stop genocide when it occurred.
In the comments, the treatment of the Indians was mentioned. Often in history books, the enslavement of the Indians of the Americas was stated as if there were no dissenting voices. However,
Bartolome de las Casas
was a priest who spent fifty years of his life fighting for the rights of the Indians. As bishop, he instructed his priests to deny absolution to men who profited from Indian slave labor. Although he did not win his fight for Indian freedom, he fought tirelessly on their behalf for most of his life.
The role of of the Church in World War II is one where many accusations such as Candy's are often made. However, there are many heroes here, too.
I've already mentioned the priest wing at Dachau, so let me introduce you to one of the 2500 inhabitants.
Titus Brandsma
was a Dutch priest. In 1935 he wrote against the anti-Jewish marriage laws. He wrote continually against the Nazi party, and tried to get Dutch newspapers not to print Nazi propaganda.
In 1942, he was sent to Dachau
, where he asked his fellow prisoners to pray for their guards while being beaten and starved. He was used for medical experiments, and eventually killed by lethal injection.
There was a German movie made in 2004 about one of the priests in Dachau, called The Ninth Day. You can read more about it in a review
here
.
In Auschwitz you could find
Fr. Maximilian Kolbe
, seen above. Fr. Kolbe sheltered 3,000 Polish refugees at his friary, 2000 of which were Jews. In 1941 he wrote in a publication ""No one in the world can change Truth. What we can do and should do is to seek truth and to serve it when we have found it. The real conflict is the inner conflict. Beyond armies of occupation and the hecatombs of extermination camps, there are two irreconcilable enemies in the depth of every soul: good and evil, sin and love. And what use are the victories on the battlefield if we ourselves are defeated in our innermost personal selves?"
He was taken prisoner after this publication, and taken to a concentration camp. Fr. Kolbe volunteered to die in the place of a man who had a family. He and ten other prisoners were starved two two weeks, when those who hadn't died were killed by injection. During the entire time, Fr. Kolbe led the prisoners in prayer, and kept up their spirits.
The prisoner that Maximilian Kolbe died for,
Franciszek Gajowniczek
, survived the war and was reunited with his wife. He lived until 1995.
Irene Sendler
was a Polish Catholic nurse who saved 2500 Jewish children from death. She even kept records, so that the children could be reunited with their parents after the war, though in many cases, their parents did not survive. Although she was taken prisoner, tortured, and sentenced to death but was rescued by the Polish resistance. She lived to be 98 years old.
Sara Salkahazi
, an Hungarian nun, is credited with saving the lives of 100 Jews. Altogether her order saved 1000. She was shot on the banks of the Danube river, along with four Jewish women, and a co-worker who was not a member of the order.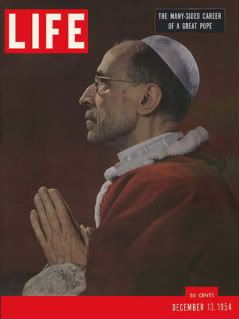 While it is currently in fashion to blame
Pope Pius XII
for not doing enough to save the Jews, I would be remiss if I didn't mention him as someone who worked against the Nazi regime. Pope Pius authorized false baptismal certificates to save Jewish lives. He issued visas to allow Jews to move to other countries, and encouraged monasteries and convents to shelter Jews. He spoke out on several occasions against the Nazi party, and immediately after the war he was hailed by media around the world as a "lone voice" against the Nazi party. (How soon they forget!). Israel Zoller, the Chief Rabbi of Rome during World War II, actually converted to Catholicism after the war. He took the baptismal name Eugenio, the birth name of Pius XII, in gratitude for all he had done on behalf of Jews during the war.
"No Christmas sermon reaches a larger congregation than the message Pope Pius XII addresses to a war-torn world at this season. This Christmas more than ever
he is a lonely voice crying out of the silence of a continent."
The New York Times, December 25, 1942
"When fearful martyrdom came to our people, the voice of the
pope was raised for its victims."
Golda Meir, Israeli Foreign (October 1958)
". . . the Catholic Church, under the pontificate of Pope Pius XII was instrumental
in saving at least 700,000, but probably as many as 860,000,
Jews from certain death at Nazi hands."
Pinchas E. Lapide, Three Popes and the Jews (1967)
For these Catholics, and the hundreds of others who worked against evil at risk to themselves, we should be deeply grateful.