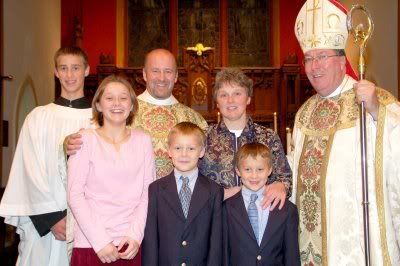 Most people are well aware that in the Catholic Church, priests do not marry. (For the record, celibate means "unmarried" in Catholic terminology.)
However, many are unaware that this is not considered a matter of doctrine, but of tradition (with a little t). The Church finds this the best practice for now, but it could change. Although there were both married and celibate (unmarried) priests in the early centuries, the church adopted celibacy as the practice because it made certain things easier at the time, mostly due to inheritance issues. We keep it because we still find it convenient for other reasons.
Actually, there are already married priests within the church. In what is known as the Eastern Rites (think Orthodox, but in union with Rome) if men are married when they are ordained, they will be married priests. If they are unmarried when they are ordained, then they must remain so. Also, former Orthodox or Anglican priests who convert, can request to be priests in the Roman Rite. These men, such as
Dwight Longenecker
, pictured above with his family, will also be married Catholic priests.
Protestants often point to this practice and say that it isn't Biblical. Yet, there are many verses which point favorably to remaining unmarried:
Matt 19:12For there are some eunuchs, which were so born from their mother's womb: and there are some eunuchs, which were made eunuchs of men: and there be eunuchs, which have made themselves eunuchs for the kingdom of heaven's sake. He that is able to receive it, let him receive it.
Matt 19:29And every one that hath forsaken houses, or brethren, or sisters, or father, or mother, or wife, or children, or lands, for my name's sake, shall receive an hundredfold, and shall inherit everlasting life.
1 Cor 7:1Now concerning the things whereof ye wrote unto me: It is good for a man not to touch a woman.
And you might notice that Paul then goes on to say that everyone should marry, to avoid fornication. But the line after that is:
1 Cor 7:6But I speak this by permission, and not of commandment.
7For I would that all men were even as I myself.
He is giving permission for verses 2 though 5. It is not a commandment, because it is better to be as he is, himself. Further down, he writes:
1 Cor 7:27Art thou bound unto a wife? seek not to be loosed. Art thou loosed from a wife? seek not a wife.
32But I would have you without carefulness. He that is unmarried careth for the things that belong to the Lord, how he may please the Lord:
33But he that is married careth for the things that are of the world, how he may please his wife.
One of the advantages for a celibate priest, is that he can devote himself full time to prayer and ministry, without caring for things of the world, and pleasing his wife.
1 Cor 7:38So then he that giveth her in marriage doeth well; but he that giveth her not in marriage doeth better.
Some might point out the importance of marriage in the Old Testament. The figures of the Old Testament were very much concerned with building the Israelites as God's Chosen People. The New Testament is concerned with building the Kingdom of God.
Who is the central figure who precedes Jesus in the New Testament? John the Baptist, who appears to have been the first monk in the desert.
I don't think that we need to stack the verses speaking favorably of marriage and those speaking favorably of celibacy and measure the two. I think that the New Testament makes it clear that there is now a new choice available. Now some will be called to give themselves entirely to God, and this is a valid choice.
If you look at the history of the Church, it is clear that from the very first years of the Church, people listened to the parable of the rich young man, and took it to apply to themselves. Young widows gathered together in a house and devoted themselves to prayer instead of marrying again. Young men sold all of their possessions and went to pray in the desert. This all happened immediately, not starting in the Middle Ages.
From my point of view, it is the protestant churches which do not allow a person to chose this as an option. If a young man who had graduated from seminary openly said that he had no intention of marrying because he wanted to devote himself to prayer and his work for the church, would he really be able to find a job? On the other hand, the Catholic church has a position of deacon, which is an ordained position available for married men.
Our seminary process is long, and with ample opportunity for the men to discern if this is truly their calling. I know someone who got married recently, who spent two years in a Catholic seminary. He discerned that he was not called to the priesthood after all. That is not looked down upon at all in our church, but on the other hand, an indication that the process works.
Priests are certainly not unhappy with the state of affairs.
"Job satisfaction is not a problem for U.S. priests, nearly 100 percent of whom either "strongly agree" or "somewhat agree" with the statement: "Overall, I am satisfied with my life as a priest." That was among the findings of the Center for Applied Research in the Apostolate, CARA, in a telephone poll of 1,212 priests released Sept. 9."
A 2007 University of Chicago job satisfaction survey found eighty-seven percent of clergy said they were "very satisfied" with their work. This was all clergy lumped together, which suggests that while protestant clergy are very satisfied with their jobs, that Catholic clergy might be a little happier.
So again, while this is a tradition of the church, there are verses that speak approvingly of celibacy, indicating that it is a Biblically based practice.
The Catholic church isn't the only church with this practice, either. The Orthodox churches ordain both married and unmarried men, but if they are unmarried when ordained, then they must remain so. Bishops are chosen only from the celibate priests.
Orthodox, Anglican, and Catholic churches all have a monastic traditions, as well, where monks and nun devote themselves full time to prayer.