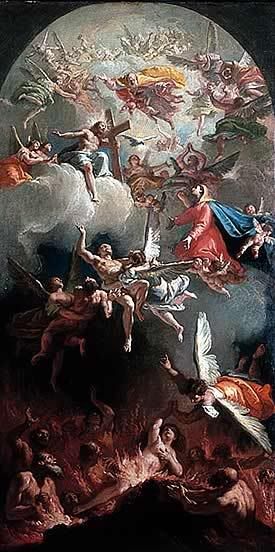 For many, whether purgatory is Biblical is something of a no-brainer. After all, the word "purgatory" appears nowhere in the Bible. Which puts it in the company of other words, such as "Trinity,""Incarnation," or even, that curious belief known as "the Rapture."
Although the word purgatory does not appear in the Bible, it refers to a concept that is Biblical. The Bible refers to a time where our works will be tested by fire. It is a time of purification, where our sins will be purged from our souls, so that we will enter heaven purified. Over time, this time of "purging" became known as "purgatory."
1 Cor 3:13-15: Every man's work shall be made manifest: for the day shall declare it, because it shall be revealed by fire; and the fire shall try every man's work of what sort it is.
If any man's work abide which he hath built thereupon, he shall receive a reward.
If any man's work shall be burned, he shall suffer loss: but he himself shall be saved; yet so as by fire.
This indicates that even though a man's work was burned and he suffered loss, he was saved. This is not the all or nothing of heaven or hell, but a purification before entering heaven.
1 Peter 1:7: That the trial of your faith, being much more precious than of gold that perisheth,
though it be tried with fire
, might be found unto praise and honour and glory at the appearing of Jesus Christ
Jude
23
: And others save with fear,
pulling them out of the fire
; hating even the garment spotted by the flesh.
So, if purgatory is Biblical, does it follow that our prayers make any difference to those are being purified?
2 Tim. 1:16-18 is an example of Paul praying for the dead, in this case, a man named Onesiphorus.
Praying for the dead was common practice among the Jews at that time. It has been the practice at least as long as the time of the Maccabees. 2 Maccabees 12:43–45 states "In doing this he acted in a very excellent and noble way, inasmuch as he had the resurrection of the dead in view; for if he were not expecting the dead to rise again, it would have been useless and foolish to pray for them in death. But if he did this with a view to the splendid reward that awaits those who had gone to rest in godliness, it was a holy and pious thought. Thus he made atonement for the dead that they might be freed from this sin." These verses are the primary reason that the deuterocanonical books were removed from the Old Testament. They justified praying for the dead.
Praying for the dead remains the Jewish practice today. Orthodox Jews recite the Kaddish for eleven months after the death of a parent, to pray for their purification.
Judaism 101
says "According to Jewish tradition, the soul must spend some time purifying itself before it can enter the World to Come."
While many contend that purgatory and praying for the dead was a medieval Roman Catholic invention, there is ample evidence that this was a belief of the early Christians. Visit the catacombs, and you find prayers for the dead scrawled on the wall in examples of graffiti dating to the first three centuries of Christianity.
Other writings of that era such as A
cts of Paul and Thecla
and the
Martyrdom of Perpetua and Felicity
also attest to this belief.
The Early Church Fathers, who, being "early" predated Medieval times by quite a bit, also wrote on this topic. Tertullian, writes in the second century, "We offer sacrifices for the dead on their birthday anniversaries [the date of death—birth into eternal life]."
Gregory of Nyssa, writing in the late third century, says ""If a man distinguish in himself what is peculiarly human from that which is irrational, and if he be on the watch for a life of greater urbanity for himself, in this present life he will purify himself of any evil contracted, overcoming the irrational by reason. If he has inclined to the irrational pressure of the passions, using for the passions the cooperating hide of things irrational, he may afterward in a quite different manner be very much interested in what is better, when, after his departure out of the body, he gains knowledge of the difference between virtue and vice and
finds that he is not able to partake of divinity until he has been purged of the filthy contagion in his soul by the purifying fire
."
You can read more excerpts of these early Christian writers
here
.
So, to summarize Catholic teaching on purgatory in a Biblical way:
We must be spotless and pure in God's presence.
Rev 21:27
Matt 5:8
Christ promised there was punishment that exacted what was due but wasn't endless. (And Paul supported this teaching.)
Matt 5: 20-26
Matt 12:32
Matt 18:21-35
Matt 25:31-46
Luke 12:58-59
Heb 9:27
Psalm 99:8
This punishment isn't in Hell because you can't be saved through hellfire. Also, there's no punishment in Heaven.
1 Corinthians 3:10-16
2 Corinthians 5:9-11
Hebrews 12:6, 11
Those who are alive can pray for those who are dead (and vice versa).
1 John 5:16-17
Luke 16:19-31
2 Maccabees 12:38-46
Sirach 7:33
To end, I think a quotation from C.S. Lewis from
Letters To Malcolm
is in order.
"Of course I pray for the dead. The action is so spontaneous, so all but inevitable, that only the most compulsive theological case against it would deter me. And I hardly know how the rest of my prayers would survive if those for the dead were forbidden. At our age, the majority of those we love best are dead. What sort of intercourse with God could I have if what I love best were unmentionable to him?
I believe in Purgatory.
Mind you, the Reformers had good reasons for throwing doubt on the 'Romish doctrine concerning Purgatory' as that Romish doctrine had then become.....
The right view returns magnificently in Newman's DREAM. There, if I remember it rightly, the saved soul, at the very foot of the throne, begs to be taken away and cleansed. It cannot bear for a moment longer 'With its darkness to affront that light'. Religion has claimed Purgatory.
Our souls demand Purgatory, don't they? Would it not break the heart if God said to us, 'It is true, my son, that your breath smells and your rags drip with mud and slime, but we are charitable here and no one will upbraid you with these things, nor draw away from you. Enter into the joy'? Should we not reply, 'With submission, sir, and if there is no objection, I'd rather be cleaned first.' 'It may hurt, you know' - 'Even so, sir.'
I assume that the process of purification will normally involve suffering. Partly from tradition; partly because most real good that has been done me in this life has involved it. But I don't think the suffering is the purpose of the purgation. I can well believe that people neither much worse nor much better than I will suffer less than I or more. . . . The treatment given will be the one required, whether it hurts little or much.
My favourite image on this matter comes from the dentist's chair. I hope that when the tooth of life is drawn and I am 'coming round',' a voice will say, 'Rinse your mouth out with this.' This will be Purgatory. The rinsing may take longer than I can now imagine. The taste of this may be more fiery and astringent than my present sensibility could endure. But . . . it will [not] be disgusting and unhallowed."