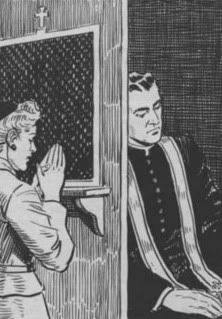 When I read Far From Rome, Near To God and the companion book The Truth Set Us Free, one of the things I found most surprising was the near universal condemnation of the sacrament of confession. Especially among the priest testimonies, person after person related feeling unworthy to forgive sins, usually followed by a search of the Bible which led them to discover that "only God can forgive sins."
I found this surprising because, being a bit familiar with the Bible myself, I have found much more scriptural support for the sacrament of confession than, say, papal infallibility or the Immaculate Confession. No, I'm not admitting that the Catholic Church made those doctrines up, but some parts of Catholicism rely more on Tradition than Scripture. But, I digress . . .
Only one of these testimonies provided scripture for "only God can forgive sins" and that one pointed to Mark 2:7. Interestingly, this is quoting the
Pharisees
who say "Why doth this man thus speak blasphemies? who can forgive sins but God only?"
It is true that no man has the power to forgive sins. No priest, as an individual man, has the power to forgive sins. It is God, acting through the ministration of the priest, who forgives sins. Jesus gave this apostles the authority to forgive sins in his stead, and that power remains, though apostolic succession. It doesn't matter how unworthy the priest is, because God can work through any person, no matter how unworthy. A quick perusal of the Old Testament will tell you that.
Here are some verses in support of the sacrament of Confession, also known as Reconciliation:
John 20:21
-23 "Then said Jesus to them again, Peace be unto you: as my Father hath sent me, even so send I you. And when he had said this, he breathed on them, and saith unto them, Receive ye the Holy Ghost:
Whosesoever sins ye remit, they are remitted unto them; and whose soever sins ye retain, they are retained
."
As a man, Jesus forgave the sins of men on earth, as He was sent by the Father. He breathed on the apostles, which indicates a significant transformation, a giving of life, and then sends them to forgive sins.
Matthew 18:18, in reference to the Church, Jesus says "Verily I say unto you, Whatsoever ye shall bind on earth shall be bound in heaven: and whatsoever ye shall loose on earth shall be loosed in heaven."
James 5:15-16 "And the prayer of faith shall save the sick, and the Lord shall raise him up; and if he have committed sins, they shall be forgiven him.
Confess your faults one to another
, and pray one for another, that ye may be healed. The effectual fervent prayer of a righteous man availeth much."
Acts 19:18 "And many that believed came,
and confessed
, and shewed their deeds."
1 John 1:9 "If we confess our sins, he is faithful and just to forgive us our sins, and to cleanse us from all unrighteousness."
Why would God ask us to confess our sins to a priest instead of to Him directly? I'm not aware of any doctrine which defines God's reasoning on confession, but I can think of several reasons.
First, it is more difficult. Sure, people say that they confess their sins to God, but how many actually do? I'm sure some do, but I'm sure a lot more never get around to that uncomfortable self-examination.
Confession teaches you humility. You are supposed to take a few moments before the sacrament to examine your life, and think of all the sins you have committed, all the ways that you have fallen short. Did you get angry at the man driving in front of you? Did you copy a DVD that you rented from Netflix?
Next, you have to be truly sorry for these sins. You must have real repentance in order to get absolution. If you are perhaps, being intimate with a boyfriend when you aren't married, then you need to have firmly resolved that it will stop, and not happen again. Confession isn't a "get out of jail free card."
In life, it is easy to let things slide. When you find that you are confessing the same things over and over, it can help you to see patterns in your life that need changing. The best part, is that it comes with free individualized spiritual advice! Right after you confess, the priest will probably speak with you about your sins, and give you some suggestions for ways to improve your life, and overcome your particular temptations.
Finally, for many people, especially those who have made big mistakes in their life, it can be difficult believe that they are forgiven. Being able to hear the priest actually say "You are forgiven" can be a very healing experience.
It is sad that the sacrament of Confession has fallen out of favor with Catholics at the same time that participation in the Eucharist is at a high. Paul reminds us that "Wherefore whosoever shall eat this bread, and drink this cup of the Lord, unworthily, shall be guilty of the body and blood of the Lord. But let a man examine himself, and so let him eat of that bread, and drink of that cup. For he that eateth and drinketh unworthily, eateth and drinketh damnation to himself, not discerning the Lord's body." 1 Cor. 11:27-29
Lev. 5:6 states "And he shall bring his trespass offering unto the LORD for his sin which he hath sinned, a female from the flock, a lamb or a kid of the goats, for a sin offering; and the priest shall make an atonement for him concerning his sin."
In the old covenant, you brought an offering of atonement for your sin to the priest. Now, we still come to the priest, but we do not bring an offering of atonement. The sacrifice has already been provided by Jesus, Himself. Confession and the Eucharist are always bound together because in our self-examination, we remember why Jesus had to die. Because we always fall short. But in taking the Eucharist, which means "thanksgiving" we joyfully remember that the debt has been paid, and not by us.
O my God, I am heartily sorry for having offended Thee,
and I detest all my sins, because I dread the loss of heaven,
and the pains of hell;
but most of all because they offend Thee, my God,
Who are all good and deserving of all my love.
I firmly resolve, with the help of Thy grace,
to confess my sins, to do penance, and to amend my life. Amen.